My Blog
Posts for tag: oral hygiene
By Albemarle Dental Associates
October 20, 2021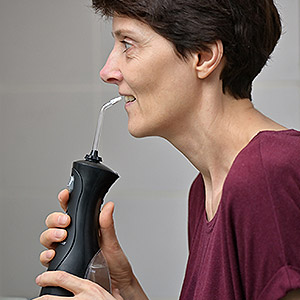 Dental plaque, that gritty bacterial film coating your teeth, is the top cause for tooth decay and periodontal (gum) disease. You can see and feel a lot of it—but not all of it. Some deposits can lodge snugly between your teeth, and can cause dental disease just as much as what's out in the open.
The problem with between-teeth plaque is that even a solid brushing habit might not effectively remove it. That's why you flossing should also be part of your daily oral hygiene.
If the thought of flossing, however, causes you to let out an audible sigh, we understand. Flossing typically engenders less enthusiasm than brushing, mainly because many find flossing time consuming and difficult to do.
If traditional flossing isn't your bag, we may have a reasonable alternative. Oral irrigation is a hygiene method for removing plaque between teeth using a pressurized water spray. You direct the water spray between your teeth using a handheld wand (which somewhat resembles a power toothbrush) and small hose attached to a countertop pump appliance.
A mainstay in dental offices, oral irrigators (or water flossers) have been available for home use since the 1960s. They're ideal for people who have problems with manual dexterity or who may not want to contend with flossing thread. They also make it easier for patients wearing braces to clean between their teeth, a monumental task using regular floss.
As to effectiveness, oral irrigation appears to match that of regular flossing, especially for orthodontic patients. Clinical studies in the early 2000s compared patients with braces using oral irrigation with those who were brushing only. Those using irrigation were able to remove five times as much plaque as the other group.
There are a number of comparable oral irrigation brands on the market from which to choose, and your dentist can advise you on features to look for when purchasing one. Just be sure you're using some method, oral irrigation or traditional flossing, to remove disease-causing plaque from between your teeth—either will go a long way in keeping your teeth and gums healthy.
If you would like more information on flossing methods, please contact us or schedule an appointment for a consultation. You can also learn more about this topic by reading the Dear Doctor magazine article "Cleaning Between Your Teeth."
By Albemarle Dental Associates
September 29, 2021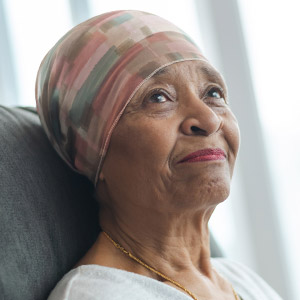 After months or even years of radiation or chemotherapy, the words "cancer-free" is music to your ears. Your joy and relief, though, may be tempered by the toll these treatments can take on the rest of your body—including your mouth.
Both of these treatments can destroy healthy tissue along with targeted cancer cells. If the focus has been on the head and neck regions, they could damage the salivary glands to the point that they won't produce adequate saliva flow.
A lack of saliva can have a detrimental effect on your oral health. Saliva buffers and helps lower oral acid levels that soften and erode enamel and increase the likelihood of tooth decay. Saliva also supplies antibodies that fight disease-causing bacteria. Otherwise, bacteria—and the risk for disease—can rapidly grow.
If these or other scenarios occur, you may experience dental damage, even tooth loss. Fortunately, we can restore an injured smile in various ways, including dentures, bridges or dental implants. But we should also attempt to limit the potential damage by taking steps to prevent dental disease during cancer treatment.
The most important of these is to brush and floss daily. Everyone should practice these hygiene tasks to remove disease-causing dental plaque, regardless of their health status. But because some natural disease-fighting mechanisms in the mouth may be disrupted during either radiation or chemotherapy, it's even more important if you're a cancer patient.
It's equally important to maintain as much as possible regular dental visits during cancer treatment. Dental cleanings provided during these visits remove any residual plaque and tartar (hardened plaque), which further lowers your disease risk.
Your dentist can better monitor your overall dental condition during frequent visits and provide as much treatment as you can tolerate. They can also enhance your protection against disease by prescribing antibacterial mouthrinses, fluoride applications or products to boost saliva production.
Some teeth and gum problems may be unavoidable; in that case, you may need post-treatment dental care to restore your oral health as needed. But caring as much for your dental health as you're able during cancer treatment could help you realize a better outcome.
If you would like more information on dental care during cancer treatment, please contact us or schedule an appointment for a consultation.
By Albemarle Dental Associates
August 09, 2021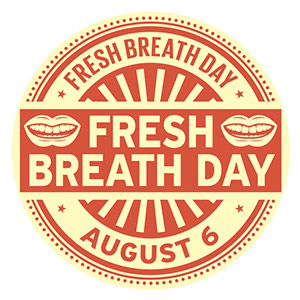 We Americans spend billions on oral hygiene products each year, primarily to fight tooth decay and gum disease. But there's also a secondary motive—to freshen our breath. Our obsession with our breath's olfactory quality has even given rise to National Fresh Breath Day on August 6.
Bad breath is usually not a serious health issue, but it can be a big deal in other respects. In a recent Match.com survey, more than a third of its 5,000 respondents said fresh breath was their top concern during a date.
Romance aside, bad breath can also adversely affect other social and career relationships. Given that, it's no wonder we buy mints and mouthwashes by the ton. Unfortunately, much of what people purchase only masks breath odor without addressing the underlying cause.
While serious conditions like diabetes, liver disease or cancer can give rise to it, the primary source of bad breath is oral bacteria. Many of the hundreds of bacterial strains inhabiting our mouths generate volatile sulfur compounds (VSCs) with a smell akin to rotten eggs or decaying animal or vegetable matter. The longer these bacteria remain in the mouth, the more VSCs and their unpleasant odors they create.
Bacteria mainly thrive in a thin film of food particles known as dental plaque. It can build up quickly on tooth and gum surfaces, particularly with ineffective or non-existent oral hygiene. Dental plaque also causes tooth decay or gum disease, which may also contribute to unpleasant mouth odors.
Chronic dry mouth, in which the body isn't producing enough saliva, also encourages bacterial growth. Among its many functions, saliva's antibacterial compounds reduce bacterial populations. Without sufficient saliva, though, VSC-producing bacteria can run amok.
There's nothing wrong with swishing some mouthwash or popping a breath mint before a big meeting. But if you really want to alleviate bad breath, it's better to take direct action against the oral bacteria causing it.
The best thing you can do is maintain a daily regimen of brushing and flossing to remove dental plaque. This should also include cleaning the top surface of your tongue, which can be a prime hiding place for bacteria, particularly at the back of the tongue. You can simply brush your tongue with your toothbrush or use a special tongue scraper.
You should also keep up regular dental visits, which include cleanings to remove any residual plaque and tartar (hardened plaque). You should also see the dentist to treat any occurring dental diseases or conditions, including chronic dry mouth.
Fresh breath has everything to do with a clean, healthy mouth. Keeping it so can help you avoid those embarrassing odors.
If you would like more information about how to better keep your breath fresh, please contact us or schedule a consultation. To learn more, read the Dear Doctor magazine article "Bad Breath: More Than Just Embarrassing."