My Blog
Posts for tag: dental implants
By Albemarle Dental Associates
November 09, 2021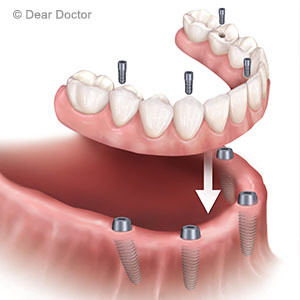 Losing all your teeth can dramatically impact your life for the worst. Fortunately, we can give you your "teeth" back. The most common way, at least until a few decades ago, is with custom dentures, which reasonably restore life-like appearance and dental function. But it does have one major drawback—it can't stop bone loss.
Loss of bone in the jaws often occurs with missing teeth. Normally, the bone continuously generates newer cells to replace older ones that have died. Chewing stimulates this growth as the force generated travels up through the teeth to the bone. But when teeth go missing, new bone growth slows, eventually causing the bone's volume and density to decrease.
Dentures can't reactivate this lost stimulation, and so bone loss may continue. Dentures even accelerate this loss as the compressive forces applied to the bony ridge are detrimental. This often leads to a "loosening" of a denture's fit that can make them uncomfortable and less secure to wear.
Today, however, patients with total tooth loss have another option that could alleviate the problem of bone loss—dental implants. Since their inception forty years ago, implants have become the preferred method of both dentists and patients for tooth replacement.
Implants consist of a titanium metal post that's surgically imbedded into the jawbone. Bone cells are attracted to this particular metal, readily multiplying and adhering to the implant's titanium surface. Because of this, an implant can slow or even stop bone loss.
Most people are familiar with the single tooth implant with an attached lifelike crown. Although this use of implants could be used to restore total tooth loss, it can be quite costly replacing over two dozen teeth individually.
But implants could still be part of the answer for someone with complete tooth loss, because they can also be used to support traditional restorations. A few implants strategically placed around the jaw can support either a removable denture or a fixed bridge.
Besides being a cost-effective way to add support to these traditional tooth replacements, the inclusion of implants will likely decrease continuing bone loss. Most importantly, it can give you back your dental function—and your smile to boot.
If you would like more information on dental implant options, please contact us or schedule an appointment for a consultation. You can also learn more about this topic by reading the Dear Doctor magazine article "New Teeth in One Day."
By Albemarle Dental Associates
August 19, 2021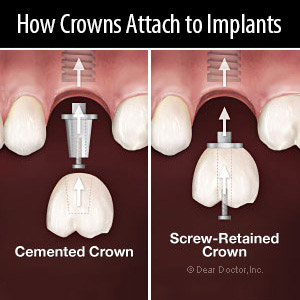 If you've decided on a dental implant to replace a missing tooth, you've made a great choice. Implants are a big favorite of both dentists and patients, not only for their life-likeness, but also their durability. Studies show that more than 95% of implants survive after ten years.
As you may know, single tooth implants are composed of two main parts: a metal post (usually titanium) imbedded in the jawbone; and a life-like crown affixed to the end of the post. But what you may not know is that there are two ways to attach the crown—either with screws or with dental cement.
Neither way is superior to the other—both have their own set of advantages and disadvantages. A cemented crown, for instance, usually looks more like a natural tooth than a screw-retained crown (more about that later) and dentists have more flexibility in making them look natural.
But cemented crowns require an additional piece of hardware called an abutment to better match it with the implant, something unnecessary with a screw-retained crown. Some people can also experience a reaction to the cement resulting in inflammation or even bone loss. And once installed, removing the crown later for repair or replacement is much more difficult than with a screw-retained crown.
Besides attaching directly to the implant, screw-retained crowns don't require cement and are more easily attached and removed. But the screw-hole can pose some aesthetic problems: Although it can be filled with a tooth-colored filling, the tooth's appearance isn't as ideal as a cemented crown.
So, which one is best for you? That will depend on the type and location of teeth being replaced, as well as your dentist's preferences. For instance, a more attractive cemented crown may be better for a visible front tooth, while a screw-retained crown might be a good choice for a back premolar or molar where appearance isn't as big a factor.
In the end, it's likely your dentist will discuss the pros and cons for each method as it pertains to your individual case. Whichever way your crown attaches, the end result will still be a life-like tooth that could last you for years to come.
If you would like more information on dental implants, please contact us or schedule an appointment for a consultation. You can also learn more about this topic by reading the Dear Doctor magazine article "How Crowns Attach to Implants."