My Blog
Posts for tag: celebrity smiles
By Albemarle Dental Associates
October 09, 2021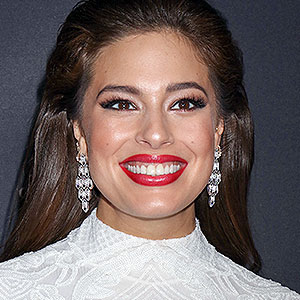 Ashley Graham has a beautiful and valuable smile—an important asset to her bustling career as a plus-size model and television host. But she recently revealed on Instagram a "confrontation" between one of her teeth and a frozen oatmeal cookie. The cookie won.
Holding her hand over her mouth during the video until the last moment, Graham explained how she sneaked a cookie from her mom's freezer and took a bite of the frozen treat. Taking her hand from her mouth, she revealed her broken tooth.
Okay, maybe it wasn't an actual tooth that was broken: the denticle in question appeared to have been previously altered to accommodate a porcelain veneer or crown. But whatever was once there wasn't there anymore.
Although her smile was restored without too much fuss, Graham's experience is still a cautionary tale for anyone with dental work (and kudos to her for being a good sport and sharing it). Although dental work in general is quite durable, it is not immune to damage. Biting down on something hard, even as delicious as one of mom's frozen oatmeal cookies, could run you the risk of popping off a veneer or loosening a crown.
To paraphrase an old saying: Take care of your dental work, and it will take care of you. Don't use your teeth in ways that put your dental work at risk, tempting as it may be given your mouth's mechanical capabilities.
 Even so, it's unwise—both for dental work and for natural teeth—to use your teeth and jaws for tasks like cracking nuts or prying open containers. You should also avoid biting into foods or substances with hard textures like ice or a rock-hard cookie from the freezer, especially if you have veneers or other cosmetic improvements.
It's equally important to clean your mouth daily, and undergo professional cleanings at least twice a year. That might not seem so important at first since disease-causing organisms won't infect your dental work's nonliving materials. But infection can wreak havoc on natural tissues like gums, remaining teeth or underlying bone that together often support dental enhancements. Losing that support could lead to losing your dental work.
And it's always a good idea to have dental work, particularly dentures, checked regularly. Conditions in the mouth can change, sometimes without you noticing them, so periodic examinations by a trained dental provider could prevent or treat a problem before it adversely affects your dental work.
We're glad Ashley Graham's trademark smile wasn't permanently harmed by that frozen cookie, and yours probably wouldn't be either in a similar situation. But don't take any chances, and follow these common sense tips for protecting your dental work.
If you would like more information on care and maintenance of cosmetic dental work, please contact us or schedule a consultation. To learn more, read the Dear Doctor magazine articles "Porcelain Veneers: Strength & Beauty as Never Before" and "Dental Implant Maintenance."
By Albemarle Dental Associates
August 29, 2021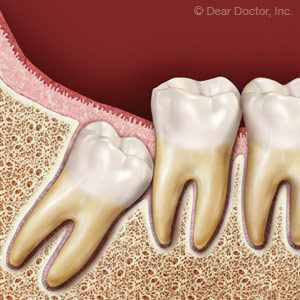 During election season, you'll often hear celebrities encouraging you to vote. But this year, Kaia Gerber, an up-and-coming model following the career path of her mother Cindy Crawford, made a unique election appeal—while getting her wisdom teeth removed.
With ice packs secured to her jaw, Gerber posted a selfie to social media right after her surgery. The caption read, "We don't need wisdom teeth to vote wisely."
That's great advice—electing our leaders is one of the most important choices we make as a society. But Gerber's post also highlights another decision that bears careful consideration, whether or not to have your wisdom teeth removed.
Found in the very back of the mouth, wisdom teeth (or "third molars") are usually the last of the permanent teeth to erupt between ages 17 and 25. But although their name may be a salute to coming of age, in reality wisdom teeth can be a pain. Because they're usually last to the party, they're often erupting in a jaw already crowded with teeth. Such a situation can be a recipe for numerous dental problems.
Crowded wisdom teeth may not erupt properly and remain totally or partially hidden within the gums (impaction). As such, they can impinge on and damage the roots of neighboring teeth, and can make overall hygiene more difficult, increasing the risk of dental disease. They can also help pressure other teeth out of position, resulting in an abnormal bite.
Because of this potential for problems, it's been a common practice in dentistry to remove wisdom teeth preemptively before any problems arise. As a result, wisdom teeth extractions are the top oral surgical procedure performed, with around 10 million of them removed every year.
But that practice is beginning to wane, as many dentists are now adopting more of a "wait and see" approach. If the wisdom teeth show signs of problems—impaction, tooth decay, gum disease or bite influence—removal is usually recommended. If not, though, the wisdom teeth are closely monitored during adolescence and early adulthood. If no problems develop, they may be left intact.
This approach works best if you maintain regular dental cleanings and checkups. During these visits, we'll be able to consistently evaluate the overall health of your mouth, particularly in relation to your wisdom teeth.
Just as getting information on candidates helps you decide your vote, this approach of watchful waiting can help us recommend the best course for your wisdom teeth. Whether you vote your wisdom teeth "in" or "out," you'll be able to do it wisely.
If you would like more information about what's best to do about wisdom teeth, please contact us or schedule a consultation. To learn more, read the Dear Doctor magazine article "Wisdom Teeth."
By Albemarle Dental Associates
July 20, 2021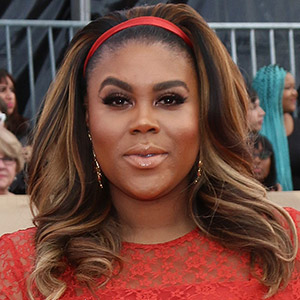 Nina Parker, the host of Love & Hip Hop for six seasons, is now busy with the new game show Blockbusters and her own talk show The Nina Parker Show. But even with a full plate, she took time recently for some personal care—getting a new smile.
Parker's fans are familiar with her noticeable tooth gap. But a video on TikTok in February changed all that: In the video, she teasingly pulls away a mask she's wearing to reveal her smile—without the gap.
Parker and other celebrities like Madonna, Michael Strahan and David Letterman are not alone. Teeth gaps are a common smile feature, dating back millennia (even in fiction: Chaucer described the Wife of Bath as being "gap-toothed" in The Canterbury Tales).
So, what causes a tooth gap? Actually, a lot of possibilities. The muscle between the teeth (the frenum) may be overly large and pushing the teeth apart. There may be too much room on the jaw, so the teeth spread apart as they develop. It might also have resulted from tongue thrusting or late thumb sucking as a child, influencing the front teeth to develop forward and outward.
A tooth gap can be embarrassing because they're often front and center for all the world to see, but they can also cause oral health problems like complicating oral hygiene and increasing your risk for tooth decay. They can also contribute to misalignment of other teeth.
Fortunately, there are ways to alleviate a gap. One way is to move the teeth closer together with either braces or removable clear aligners. This may be the best approach if the gap is wide and it's contributing to misalignment of other teeth. You may also need surgery to alter the frenum.
You can also reduce less-pronounced gaps cosmetically with dental bonding or porcelain veneers. Bonding involves applying a type of resin material to the teeth on either side of the gap. After some sculpting to make it appear life-like, we harden the material with a curing light. The result is a durable, tooth-like appearance that closes the gap.
A veneer is a thin wafer of porcelain, custom-made to fit an individual patient's tooth. Bonded to the front of teeth, veneers mask various dental flaws like chips, deformed teeth, heavy staining and, yes, mild to moderate tooth gaps. They do require removing a small amount of enamel on the teeth they cover, but the results can be stunning—completely transformed teeth without the gap.
Getting rid of a tooth gap can be a wise move, both for your smile and your health. You may or may not take to social media to show it off like Nina Parker, but you can feel confident to show the world your new, perfect smile.
If you would like more information about treating teeth gaps and other dental flaws, please contact us or schedule a consultation. To learn more, read the Dear Doctor magazine article "Space Between Front Teeth."